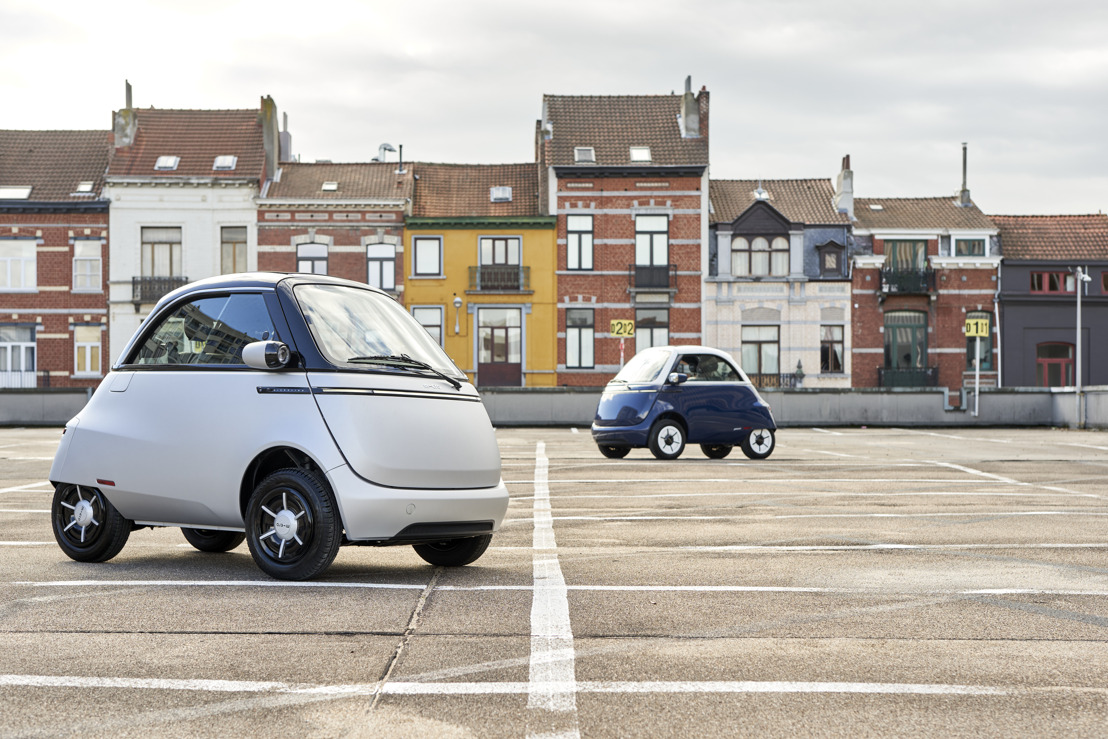 Microlino arrives in Belgium with D'Ieteren
D'Ieteren is adding a new brand to its trendy urban mobility offering.
It's not a motorcycle and it's not your typical car – the Microlino is an all-new 100% electric microcar that will be imported by D'Ieteren and sold online.
The first Microlinos will arrive at D'Ieteren in early 2023.
From its headquarters in central Brussels, D'Ieteren has a unique view of developments in urban mobility and the needs of urban customers. After closely monitoring these trends and leveraging the findings of the massive Polaris* mobility study it had carried out among its fleet operators and individual users, D'Ieteren has made a name for itself in alternative mobility, with multimodality apps, self-driving shuttles and charging solutions for electric cars. It has even moved into bicycles with the Lucien brand.
These alternative mobility solutions appeal to city dwellers and commuters inclined to abandon their conventional cars. Most of our current cars are simply oversized for daily use: they travel on average just 35 km a day, spend nearly 90% of their time parked and have an occupancy rate of just 1.2 people per vehicle. Size, weight, bulk and complexity are all elements that can impede traffic flow and negatively impact energy consumption and therefore mobility efficiency.
The Microlino is the answer to these pressing issues. It is a new kind of electric microcar that will delight lovers of efficient, light urban CO2-free mobility. The Microlino driver sits comfortably and has excellent visibility. His car is small and agile, but he is protected from the vagaries of the weather – and its original design successfully combines the chic and trendy look its designers sought.
A benefit for mobility
D'Ieteren sees in Microlino an opportunity to move into a new urban mobility segment by plugging the gap between cars and two-wheeled vehicles. Demand for four-wheeled micro-transport will unfold in concert with the development of alternative means of mobility, as is the case in a growing number of cities.
Denis Gorteman, CEO D'Ieteren Automotive, explains: "With Microlino, D'Ieteren continues to invest in fluid and sustainable mobility solutions that complement conventional cars while clearly underlining the entrepreneurial spirit that has driven the company right from the start. We are also continuing to work towards achieving our ambitious targets for reducing CO2 emissions in the mobility solutions we offer."
An original approach
Designed in Switzerland by Wim, Oliver and Merlin Ouboter, the family behind the famous Micro Kickscooter, the Microlino is the result of an innovative approach that is both more environmentally friendly and less bulky than cars, yet more comfortable than two-wheeled vehicles. It has a rated power of 12.5 kW, 230 litres of boot space (equivalent to the volume of three packs of water bottles, for example) and a range between 90 and 230 km, and is the only vehicle in this category with a unibody chassis. This type of construction delivers better quality, longevity and safety compared to the conventional tubular frames typically used in microcars. The Microlino, measuring just 2.5 metres long, is built in the company's own production plant in Turin, Italy.
It can be recharged in three to four hours by simply plugging it into a normal household socket (depending on the type of battery), which means it can be 'tanked up' almost anywhere. With an empty weight of around 500 kg, the small electric motor can easily take its two occupants and the contents of the 230-litre boot wherever they want to go, all while delivering a pleasant driving experience. The Microlino combines all the key points of essential mobility while unapologetically bucking the trend towards bloat seen in many cars.
Online sales
The Microlino will be sold online, just like rock concerts, shopping and travel – as well as car-sharing services and connected mobility, for that matter. A few clicks will be enough to configure your Microlino and place an order on the website.
Vincent Struye, Managing Director Microlino Belgium: "The Microlino appeals to users thanks to the fact that it is trendy, electric and pleasant to look at while leveraging modern technology that is fully in line with developments in urban and connected mobility. Since our customers are connected, it makes sense for us to offer them an online service, including for the sale of our models."
In Belgium
The first Microlino's will be delivered to Belgian customers in the first half of 2023. The car will make its official Belgian debut at the Brussels Motor Show (Hall 11), alongside the other brands imported by D'Ieteren. Customers who don't want to wait until then can reserve their Microlino online starting late this year.
The Microlino's base price will be around €14,900. The first showroom in Belgium will be at D'Ieteren's headquarters on Rue du Mail in Brussels.
Technical specifications:
Charging capacity (type 2)

6 kWh battery: 1.35 kW
​10.5 / 14 kWh battery: 2.6 kW

Charging time (plugged into a conventional socket)

6 kWh: 4 h
​10.5 kWh: 3 h
​14 kWh: 4 h

496 kg (6 kWh)
​513 kg (10.5 kWh)
​530 kg (14 kWh)

Length: 2519 mm
​Width: 1473 mm
​Height: 1501 mm

L7E (motor quadricycle), category B driving licence
Press contacts:
Microlino: Vincent Struye de Swielande – Managing Director Microlino Belgium – [email protected] – +32 478 24 69 97
D'Ieteren: Jean-Marc Ponteville – Press & Public Relations D'Ieteren –
​

[email protected]

– +32 497 57 77 67
Websites:
Microlino
The Microlino is a space-saving, electric bubble car with: Two seats, range of up to 230 km, 12.5 kW power and top speed of 90 km/h.
microlino-car.com
*The findings of our Polaris mobility study (dieteren.be)
Polaris Mobility Survey
In view of the ongoing health crisis, combined with pressing economic, social and environmental issues, we decided to challenge our approach to mobility.
www.dieteren.be
Press releases: